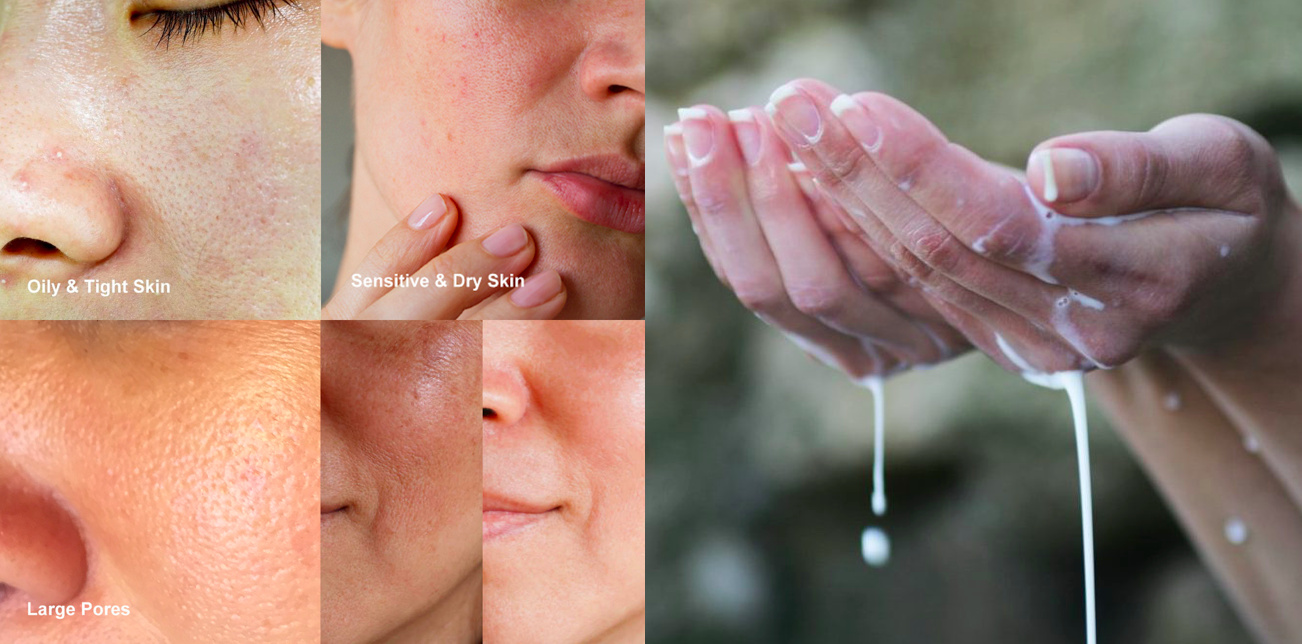 Find yourself purchasing luxury cosmetics every month? Have a full line up of lotion, moisturizer, essences, mask, and night creams placed all over your bathroom countertop?
"More pimples have popped up! My skin is dull, and if I look closely, I can see wrinkles and fine lines! "
"No amount of skincare is working. My skin is simply not improving and it's very frustrating."
Today, we are introducing Japanese amino acid facial cleanser which keeps your skin care life simple. They are the best selling amino acids skincare products in Japan over 40 years.
Let us recall that friend with perfect skin. Who, when asked about her skincare routine, says
"I'm not really doing anything special."
And although we tend think otherwise, that friend may actually be telling the truth.
As a matter of fact, all of the above-mentioned issues can be related to the skin's immune system.
On the contrary, if you have a healthy immune system, your skin will naturally glow from the inside out – even if you don't have a complete morning to nighttime routine.
The skin is not a place to put in, but a place to put out, or excrete, waste. Therefore, we shouldn't be applying unnecessary products to the skin as it may disrupt our skin's organic detox process.
Do you experiment with different skincare brands and products to find one that best suits your skin?
Do you use a facial massager and occasionally go to facials?
Taking too much care of your skin, over a period of many years, can actually weaken your skin's protective barrier.
Amino Acids for Skin
Amino acids are the building blocks of both peptides and proteins, and each has a specific role in skincare.
Amino acids maintain skin's hydration, texture, resilience, and an overall supple, healthy appearance.
Amino acids are vital components in making our bodies work, so it stands to reason that they'll also be able to work their magic on our skin, too.
How Amino Acids Benefit Skin
・Prevents adult acne and breakouts
・Controls excess oil
・Softens rough skin
・Non-comedogenic, prevents blackheads
・Minimizes pores, improves skin texture
・Skin brightening
・Treats pigmentation around the nose area
This amino acid facial cleanser is Japanese salon professional products to treat the root cause of your problems and limited quantities and not available anywhere else in the market.
In keeping with the Tokyo Beauty Stars' brand concept, we love being able to solve our international customer's beauty concerns with quality Japanese beauty services. Our foreign members and friends from in Singapore, Hong Kong, USA, and France also are using.
They are the best selling amino acids skin care products in Japan over 40 years. Facial cleansing is the most effective way to have beautiful skin, even more than any other skin care.
Arginine is one of most important amino acid present. We focus on skin's immune system for skin health. Our products treat root-cause of your skin problems.
These amino acid cleansers are guaranteed made in Japan and shipped directly from Tokyo!