With some of the best hair stylists from one of the most professional and fashionable salons in Tokyo, LIM salon delivered a unique hair experience in February to celebrate 10 years since moving from their base salon in Osaka.
Inviting a limited number of their loyal customers, LIM TOK10 was a way for the stylists to share their past and give a peak of what's to come in the future. I didn't know what to expect upon arriving, but it was immediately clear that this wasn't just an event to showcase their services—this was a show for the fashionable senses.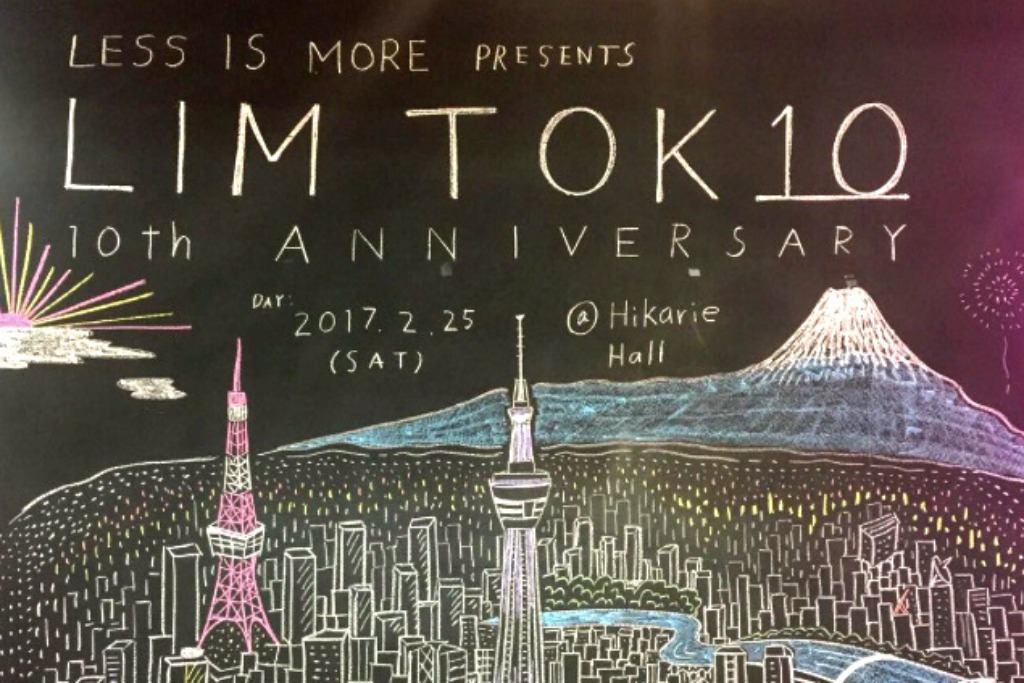 ---
As guests were waiting for the doors to open, they could browse through booths belonging to LIM's recommended vendors, including an onigiri shop, a smoothie bar, and a crocheted accessory shop. Among these were also LIM's own booths showcasing their nail art, their magazine features, and their eyelash extension techniques (apparently, there's a new trend to add some colored eyelash extensions to the end corners of the eyes—welcome to Tokyo).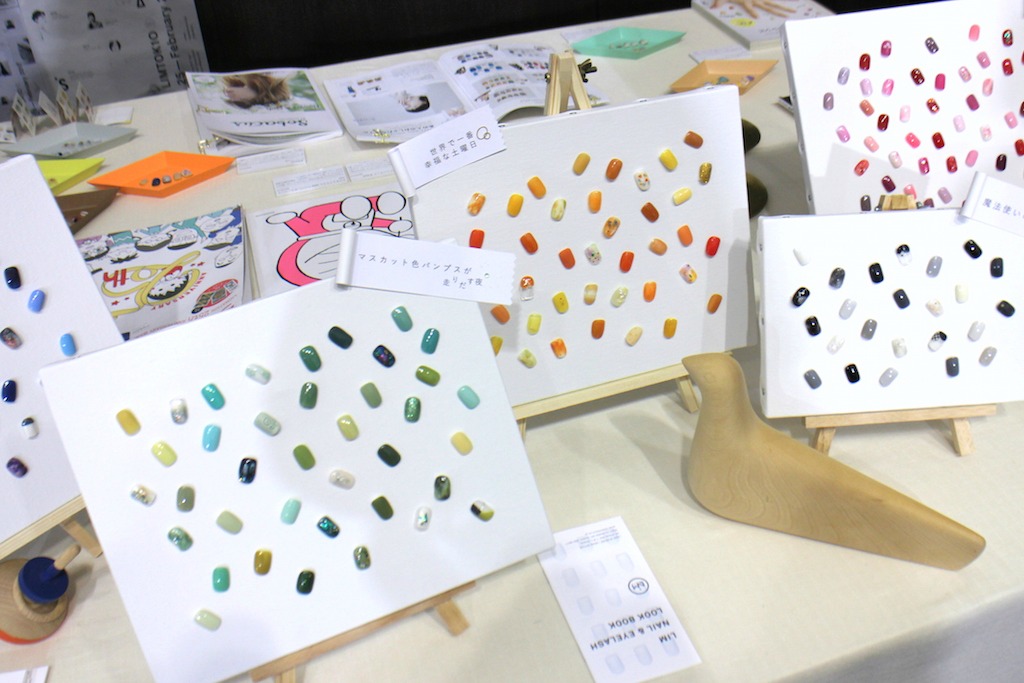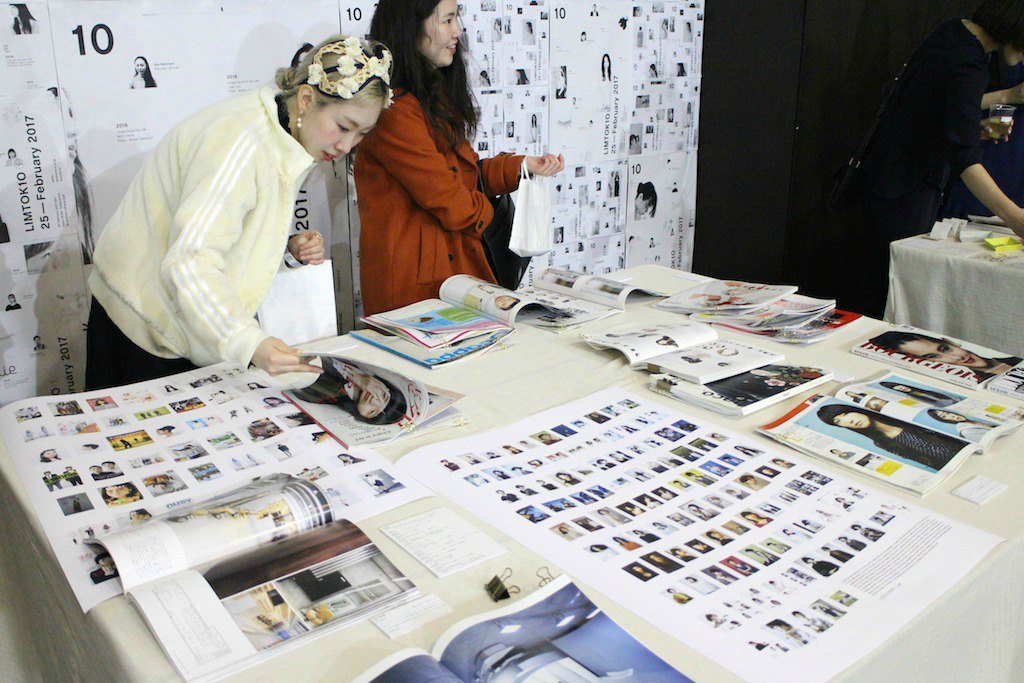 The crowd of LIM customers was likely the trendiest in the city, everyone making sure to have his or her best hair and make-up for this event. The crowd was almost split 50/50 between men and women, proving once again that Tokyoites of all types are serious about their hair. This makes the story of LIM's journey from Osaka to Tokyo all the more understandable.
Into the Time Machine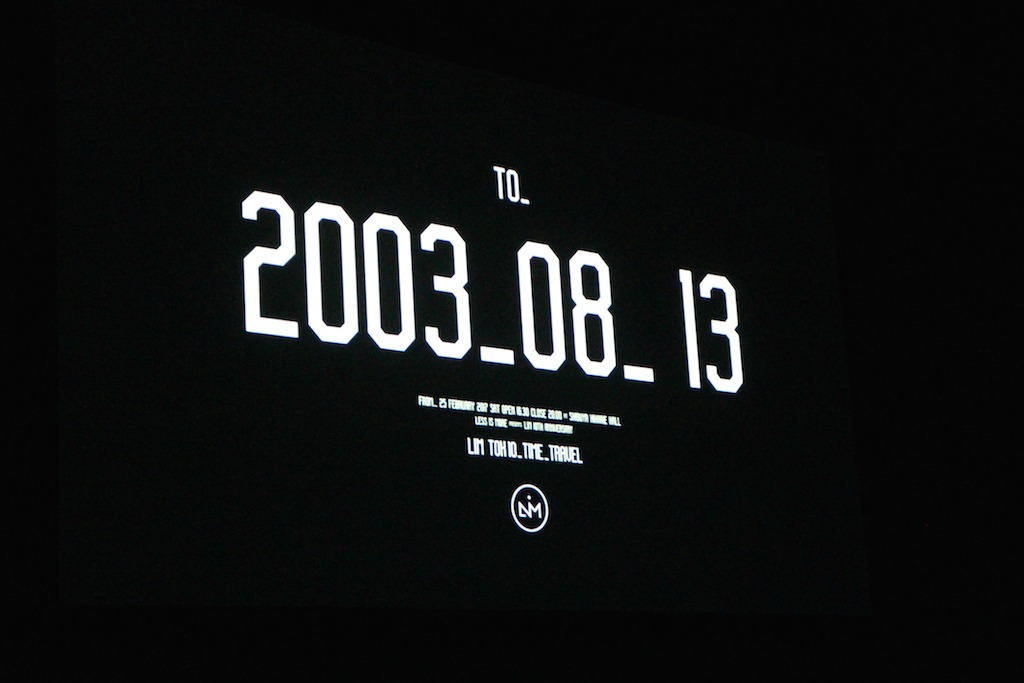 Once we were gathered in front of the runway, a presentation began to play on the projectors.
With the theme of "time travel," the audience was taken back to the beginning stages of LIM's expansion to Tokyo. We heard about the director's and stylists' fear of failure in a city where they were unknown, and despite being a huge success in Osaka for many years, they knew that they would have to start from nothing in Tokyo.
Over the course of a few years and after much hard work, the talent of the stylists and the quality of LIM caused the salon to become popular in its initial location. The LIM team was then able to open a total of 4 salons in Tokyo, each representing the unique flavor of its specific neighborhood.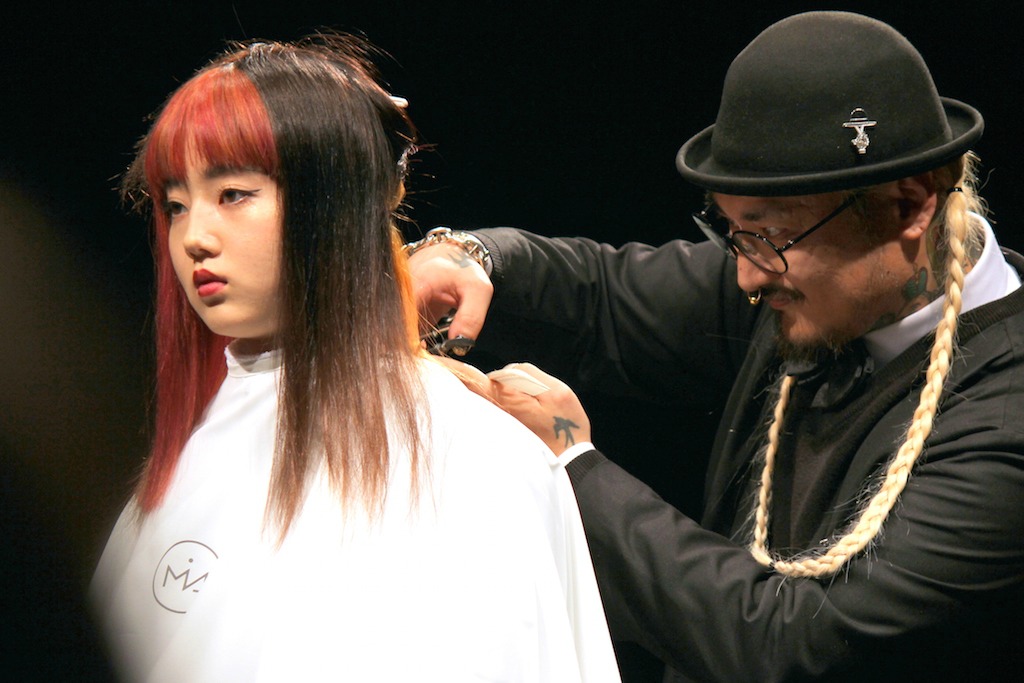 Kantaro, the lead director of the original LIM in Osaka, cuts a model's hair live onstage!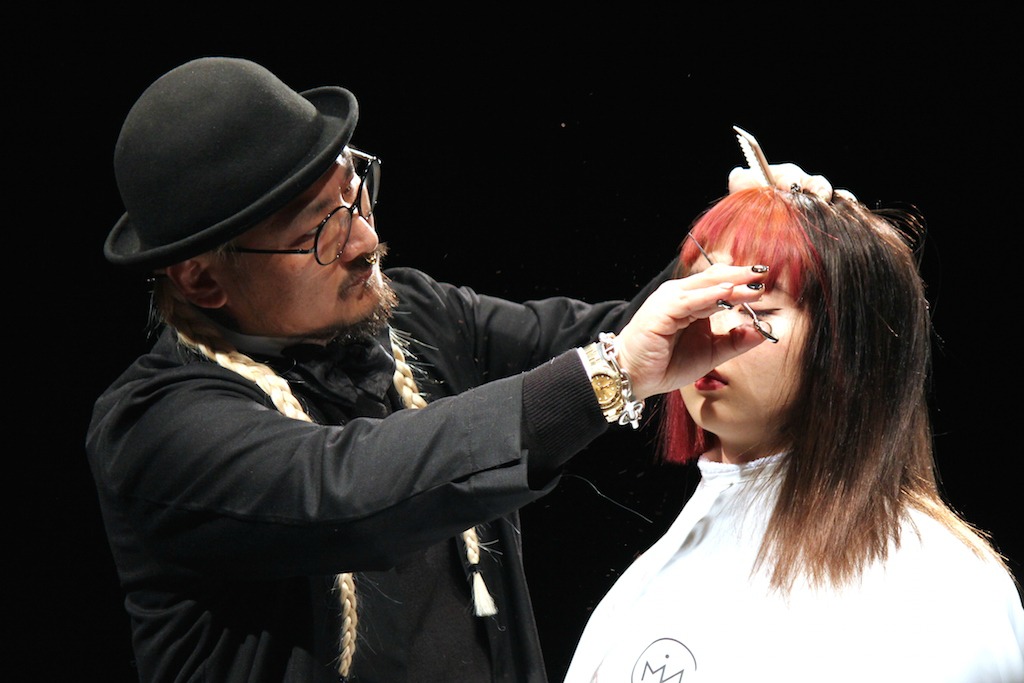 An asymmetrical cut is formed in front of the audience's eyes, accompanied by intense music and Kantaro's monologue.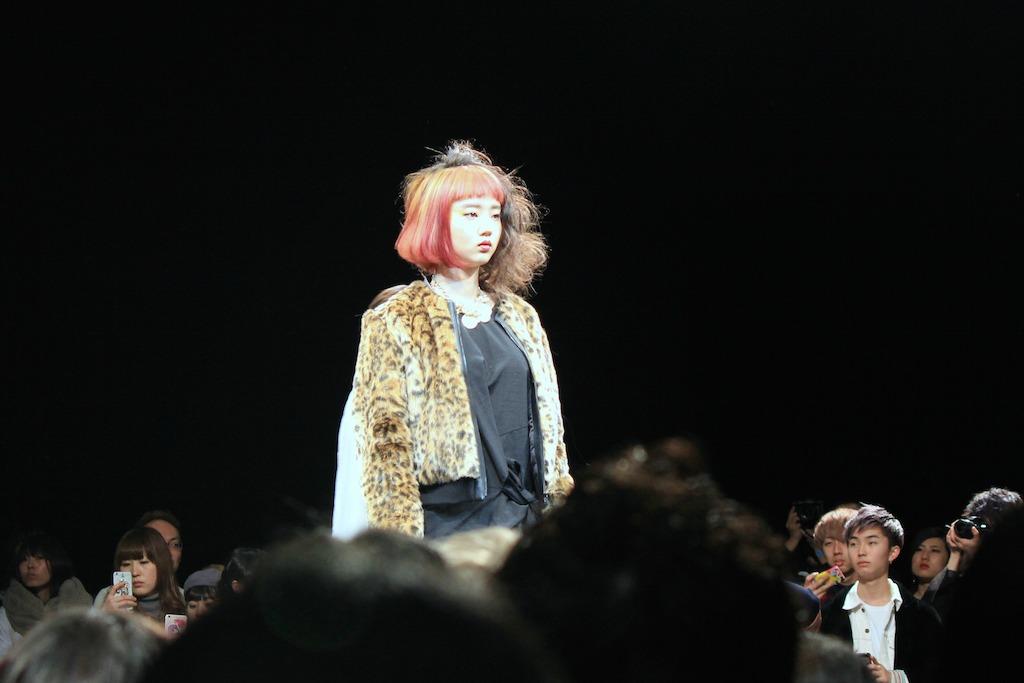 The end result, a funky and artistic cut and style!
ZOMBIE-CHANG Infects the Crowd
After the live cut demonstrations, the audience was treated to a musical performance by New Wave artist ZOMBIE-CHANG, a patron of LIM. She performed with enthusiasm and a passion for her work, dancing freely and bobbing her head to the music.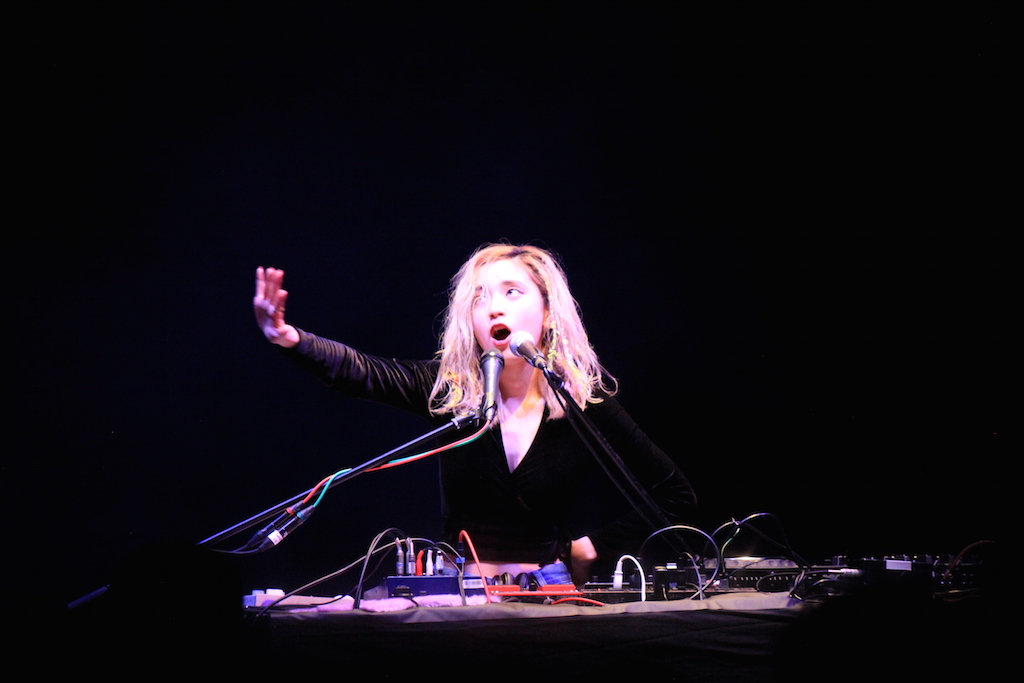 ZOMBIE-CHANG performs a song's official dance while singing behind her equipment.
From timing prerecorded samples with beats being played live to recording and playing back new samples on the spot, I was lost in her musical process. The cicada calls of "summer time" transformed into a hip-hop beat complete with a bit of rapping, followed by an insanely catchy song called "Lemonade" that stayed with the audience for days. It's almost impossible to describe her style, so I recommended checking her out online. She was incredibly endearing and slightly ethereal in her performance in front of a crowd that likely hadn't listened to her music prior, making her confidence and carefree vibe all the more powerful.
Simple, Yet Unique—Bridal Fashion Show
After a quick intermission, the bridal fashion show began, much to the delight of the unmarried women in the crowd. With a theme of "Cherish the way you are," the models took to the stage with what can only be described as unique looks. Despite being quite minimalist, these wedding looks were something I've never seen anywhere else, especially not in Japan.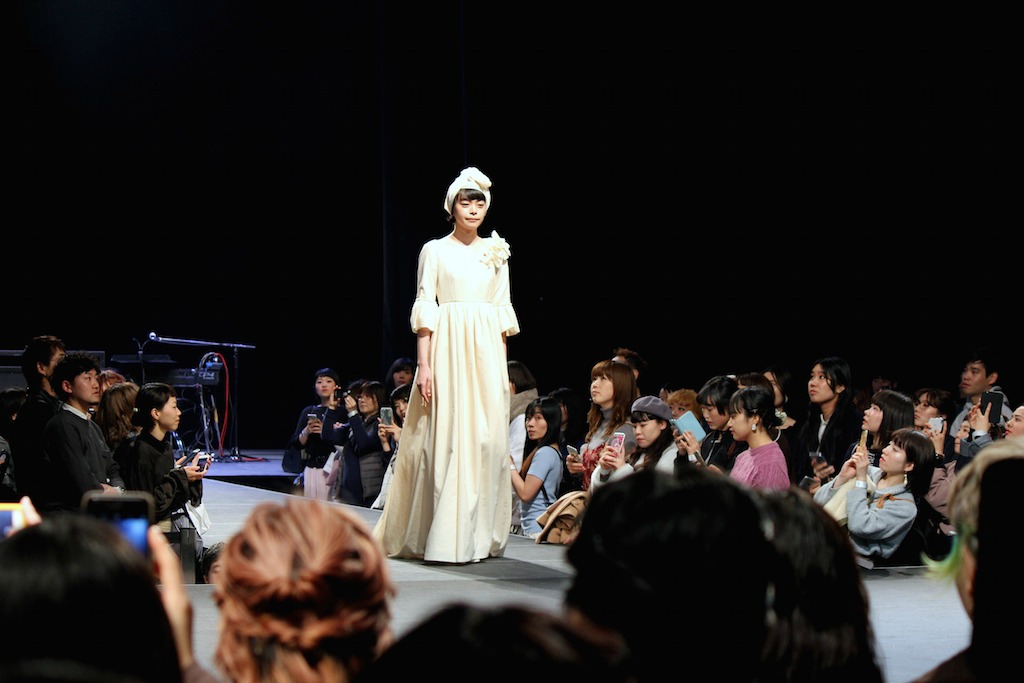 A hair-wrap look, creating a feminine and minimalist choice for future brides.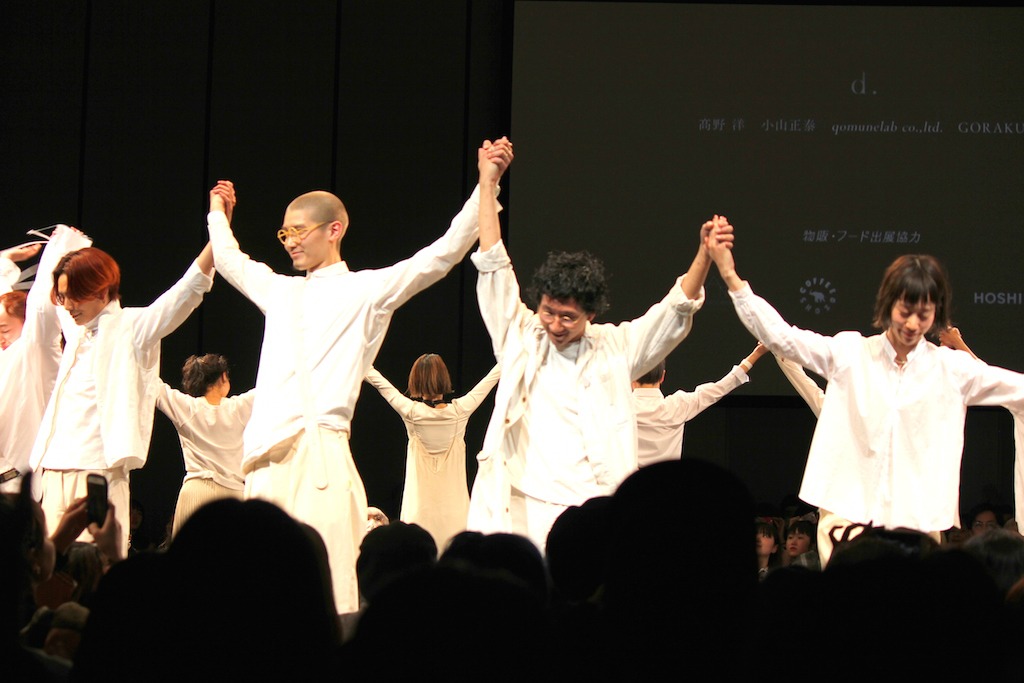 A unique tulle design, hopefully inspiring the audience members to take a chance on their wedding day.
From my experience attending Western-style weddings in Japan, there doesn't seem to be a whole lot of freedom in what the bride and groom can wear…or freedom in general. Most couples pay a ridiculous amount of money to be wed at a fancy hotel, meaning that the staff caters and takes care of every detail of the wedding. Remembering this, it's incredibly hard to believe that any of the women shouting "Kawaii!" during the bridal fashion show would dare to replicate any of these looks.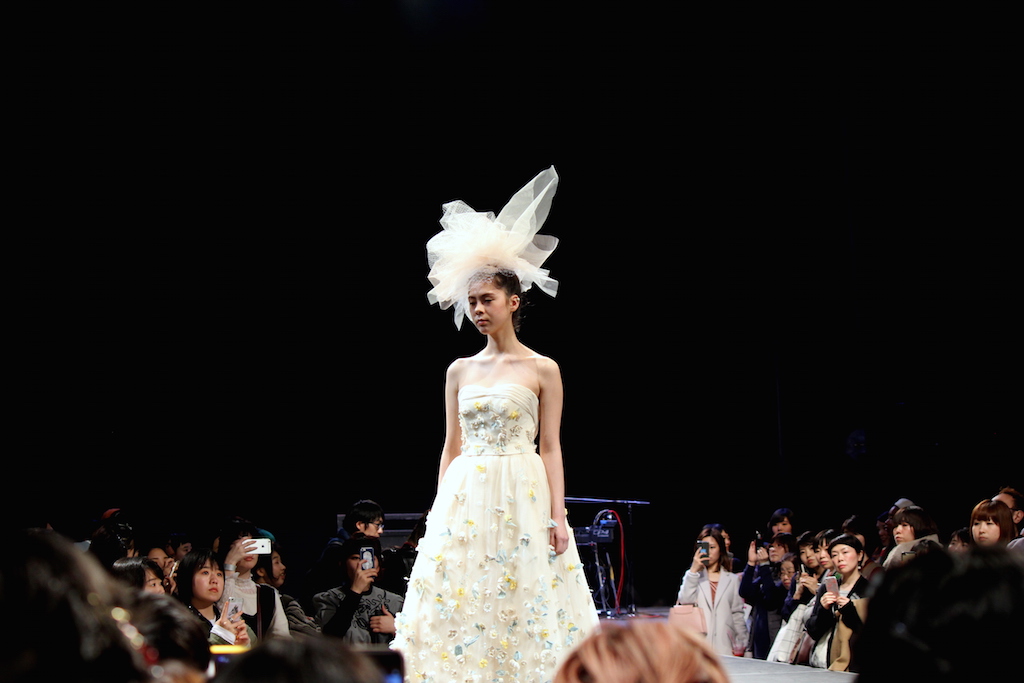 A model comes forward with her hair down and holding a vase, only to be seated at the front of the stage while the stylists set and style her hair using the contents of the vase.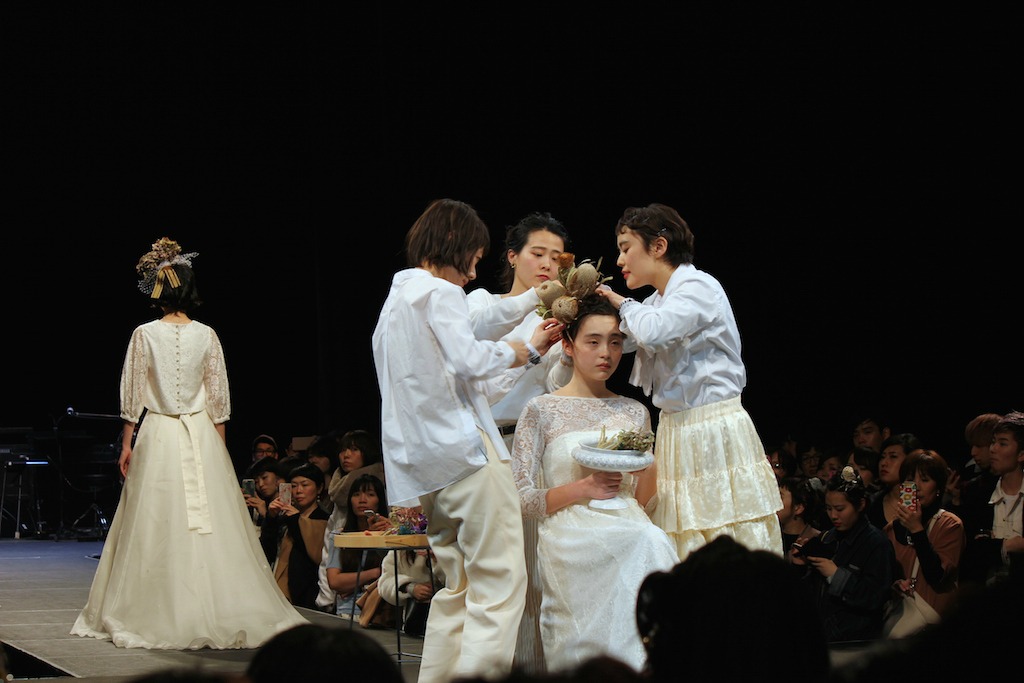 The finished look, a beautiful and unique style that somehow gives a minimal and natural impression. This look was the fan favorite.
That being said, I respect LIM for presenting something unique, simple, and beautiful. I would love for this kind of freedom of choice to be common in Japan, and if even one customer chooses to have this kind of hair or make-up for her big day, I believe LIM would be changing part of society for the better.
A Surprisingly Talented Performer, Kayoko Yoshizawa
The main performer, Kayoko Yoshizawa, was then introduced to the crowd. LIM has done her hair and make-up for some of her video shoots, so she was happy to perform at this event. She spoke very little before jumping into her first song, one that I felt was very general J-pop that could be enjoyed by most in attendance.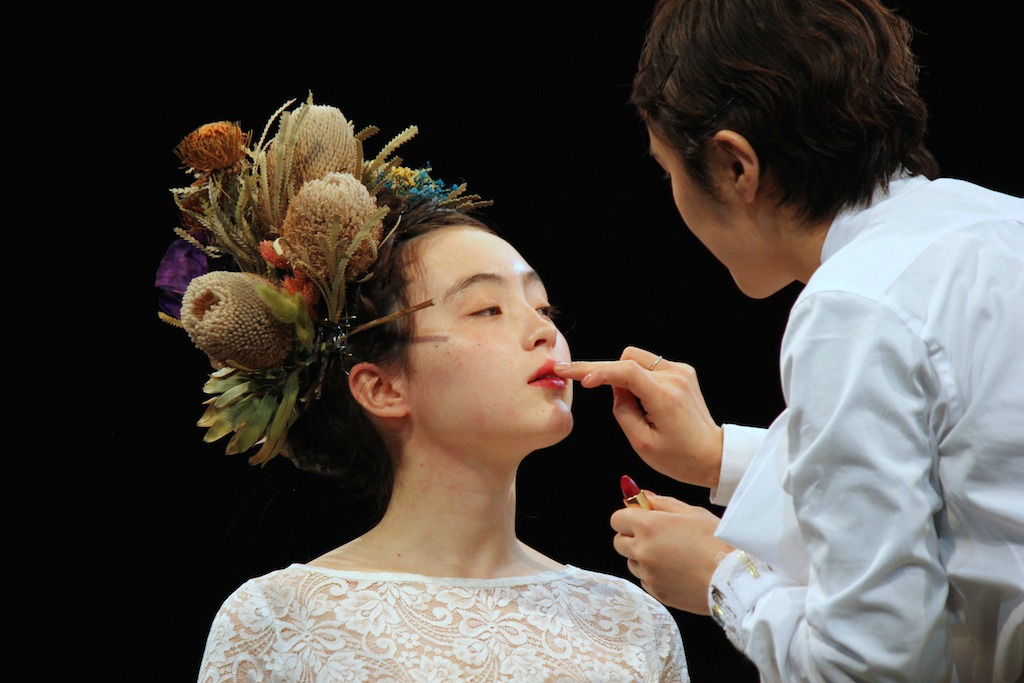 Kayoko Yoshizawa sings a song about sushi, surprising the crowd.
After she finished, however, she spoke very softly to the audience and mentioned that most people there probably didn't know about her, but she wanted to try to entertain them regardless. She then asked if everyone likes sushi…which was met with confused laughter. Even 15 minutes later, I could hear friends discussing it again: ""Do you like sushi?" Seriously?" This reaction was a bit strong considering that her next song was about going to a sushi restaurant only to find that her favorite garnish was nowhere to be found. It was a catchy song, complete with props and packaged ginger to throw to the crowd, and Yoshizawa's vocal performance was very cutesy, more like a character than a serious singing track.
Her next song was a powerful track and upbeat track, complete with Yoshizawa playing acoustic guitar. It was unexpected, but her chords were a nice addition to the driving beat. I particularly enjoyed this song, and I felt it was one of Yoshizawa's strongest vocal performances of the night despite adding her guitar into the mix; after a safe first song and some disjointed, awkward conversation followed by a comedy number, it was a pleasure to see that Yoshizawa is in fact very versatile and can handle a guitar with no problem.
Her last song of the night, "Tokyo Zekkei," translating roughly to "Scenic View of Tokyo," is a powerful song about the loneliness of such a huge city. The night sky near Tokyo is almost always devoid of stars, yet the beauty of Tokyo lies in the dreams of its residents, she sang. Yoshizawa's powerful vocals relayed this lonely yet hopeful theme incredibly well, and it seemed as though this message resonated with the Tokyoites of the audience. Considering that there was a line to buy her CDs after the event concluded, I believe Yoshizawa made new fans that night.
Interpretive Haircut/Dance?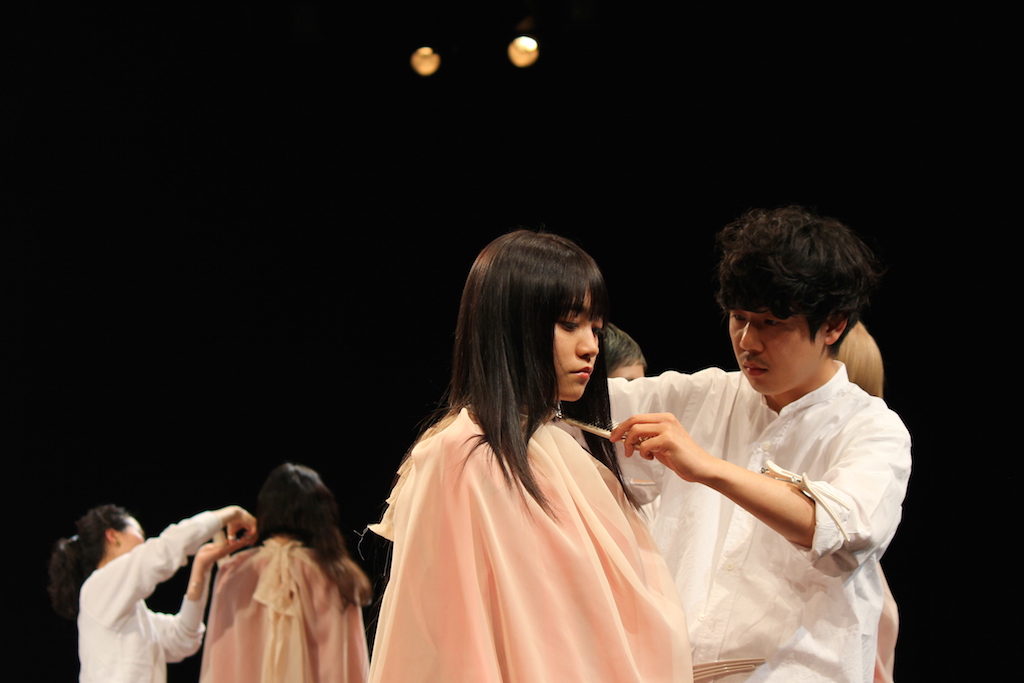 The models are gathered all around the stage, their hair being transformed by the stylists with quick precision.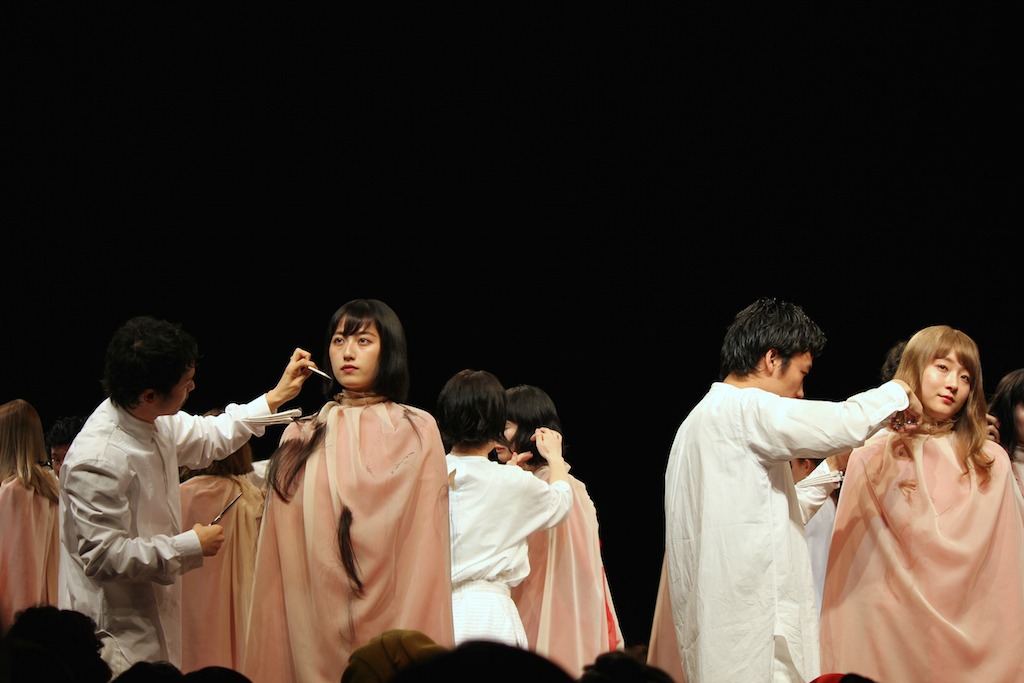 The models perform an artistic dance with their freshly cut locks.
After each finished, the apron was removed to show a bright red dress, and the group performed a synchronized dance as the music intensified. It was an artistic way to show the transformative power of a good haircut—it's about confidence.
After finishing their performance, the models left the stage to make room for the stylists and directors to take the stage for a bow. It was obvious that this event was delicately planned, and they seemed ecstatic to have successfully complete their daring vision.
Turning Hair Styling into Art
This event was nothing like I expected at all, once again demonstrating that Tokyo may as well be a whole different planet to me. While I believe this event would have been incredibly entertaining for other stylists more than it was for customers, I think it says a lot about just how much LIM values its customers.
They created something very special, entertaining, and artistic to show the customers just how important they've been to LIM the past 10 years and how they plan to keep them satisfied in the future.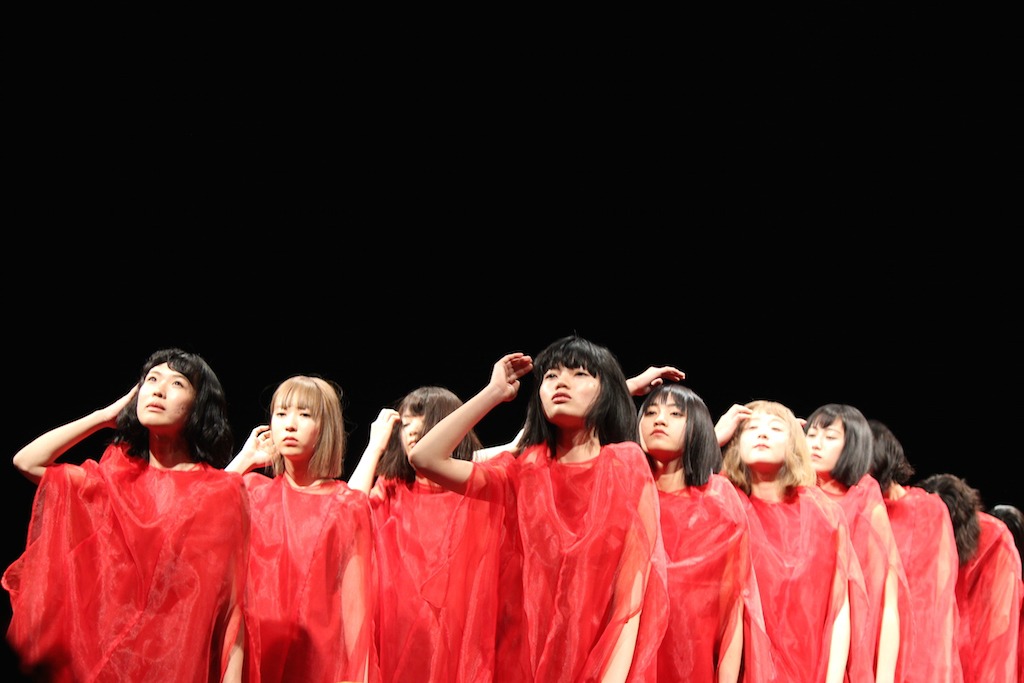 The stylists and directors take a well-deserved bow.
I didn't expect live haircuts on the runway set to music, and I certainly didn't expect an actual fashion show, but it was a pleasant surprise. As well as organizing musical guests, it seems that this event wasn't simply a celebration for LIM's 10 successful years in Tokyo, it was a way to give back to their loyal customers. Maybe this is another (incredibly elaborate) example of omotenashi that could only be found in Japan.