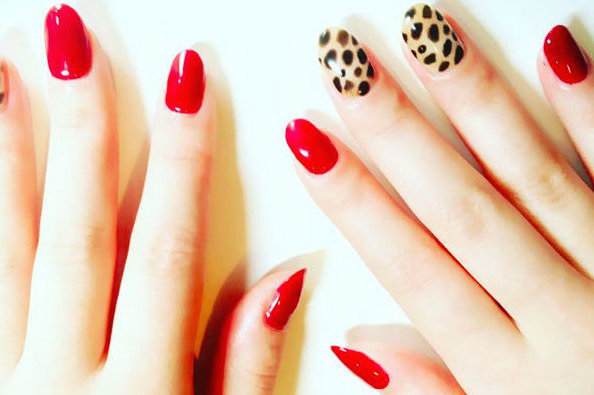 Trendy Simple Gel Nail Designs
Enjoy a nail file cuticle treatment, choose one nail color and any gel nail designs for three nails, finish with a refreshing arm & hand scrub massage, all done by the talented nail artist anmi.
Salon Price 8,500 JPY
TBS Price 7,000 JPY
tax included
At Hi Nails! Salon in Daikanyama, the nail options are endless. The talented nail artist named anmi offers over 200 color choices and endless gel nail design options, including hand painted nails, 3D, French, ombré, gradient, and many more. anmi, who has worked in both Tokyo and New York over the last 10 years, offers customers true Japanese hospitality with great attention to detail. With her surefire techniques, you are guaranteed to leave with a great new set of design nails.
---
Years of experience reflected in detailed handiwork
anmi moved to New York in her formative years in search of art and inspiration
anmi is a highly-skilled and passionate nail artist who has experience working in Japan and America. After gaining experience in nail salons around Japan, she moved to New York to expand her horizons in the company of other talented professionals and surround herself with an eclectic mix of art.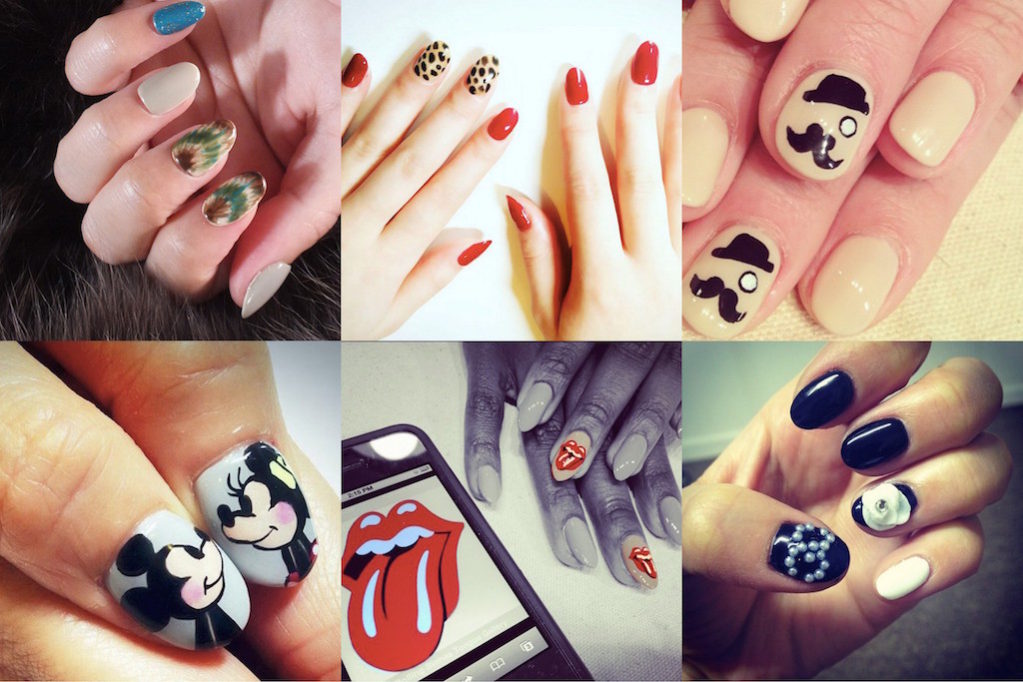 A keen art enthusiast, anmi formed her own style inspired by art exhibitions, museums, and books.
anmi takes lots of inspiration from her surroundings such as art, museums, and books. Working in New York was a great experience for her, as it has such a vibrant art scene from which she could draw inspiration. Her art and creative flair is self-taught!
She takes a lot of care with every customer to make sure your wishes are met. What makes anmi different from the usual nail salon nailist is her 5-point concept of surefire techniques, speedy application, creative designs, reasonable prices, and proper hygiene. Her surefire techniques include swift and precise use of tools and low impact non-adhesive gels that reflect a health-first approach to nail art.
The Design Process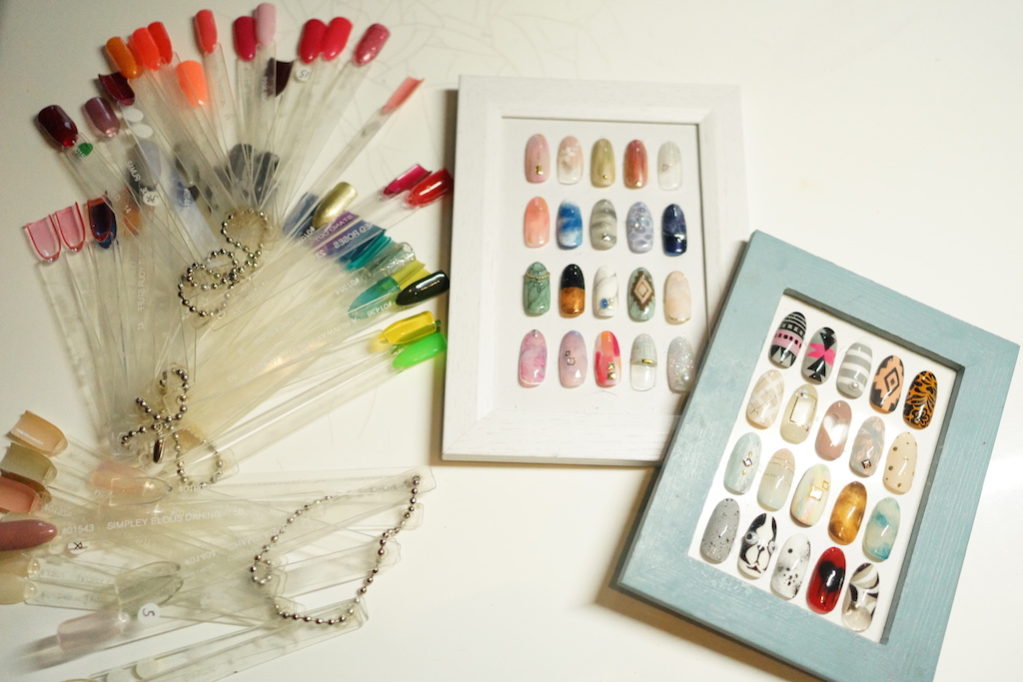 Choose one color plus gel nail designs of your choice for three fingers.
To start off, anmi will look at your nails and do any necessary filing and cuticle care so that she has a nice smooth base to start with. With buffing techniques and cuticle pushback and clean up she can even give short nails an elongated look.
For every customer, anmi uses a fresh set of buffers and filers that are disinfected and stored in anti-bacterial packs so that a high level of hygiene and sanitation can be guaranteed.
Doing nail design can often be damaging to your nails, but anmi uses precise techniques that she gathered in her time in New York and has perfected over time. These methods minimize any damage to your nails. She achieves this by not cutting the nails too short and not using products that are too adhesive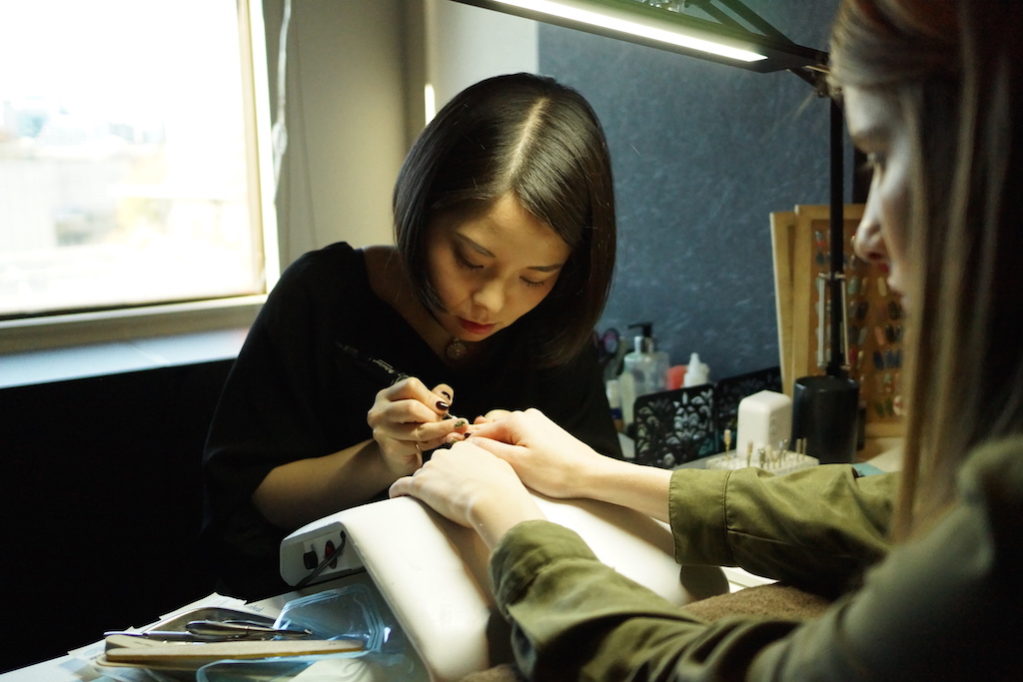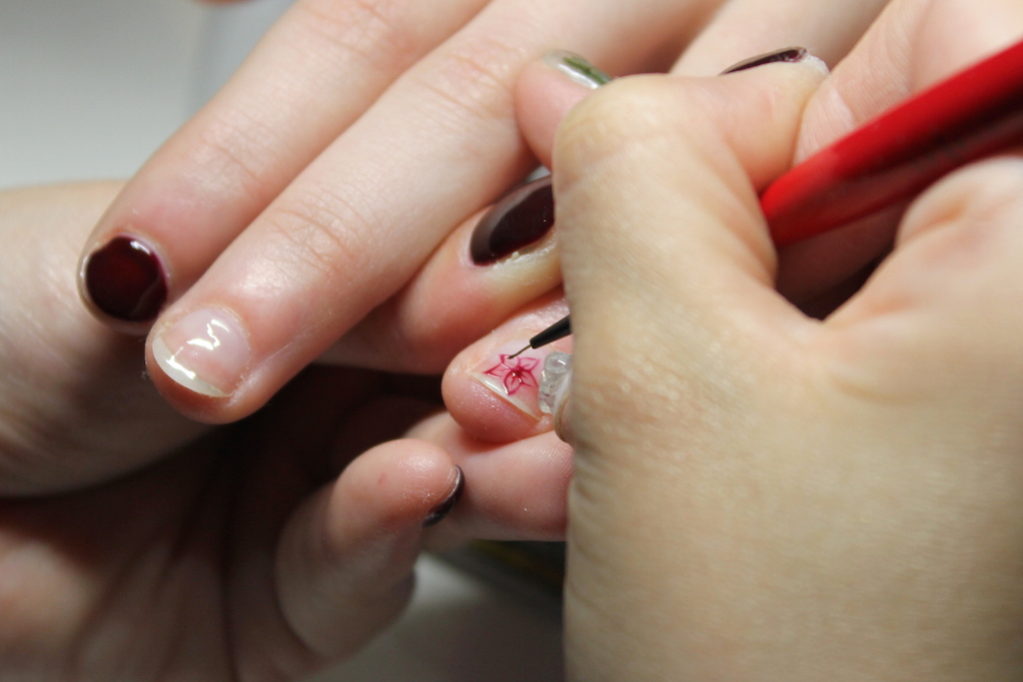 Painting small petals with elaborated lines on the model's 3 fingers.

In this nail package option, you get the choice of 1 color plus gel nail designs of your choice for 3 fingers. With over 200 colors to choose from it isn't easy! One thing that makes her salon unique is the speedy application process. She uses a LED nail lamp that can quickly dry nails in just 5 seconds! Not only that, but she is able to draw very detailed designs very quickly. So if you are in a rush, don't worry!
By applying two base coats and two top coats, the nail designs are very well protected and last about one month. For the base coat, one normal coat plus one extra coat is used. So even if you want to go visit a hot spring in Japan, you don't have to worry about your nails!
You can choose your nail design from anmi's wide assortment of design options, or you can bring in an image of the design you want. Our model Amy wanted a simple, matte color with an intricate design that looks classy but can be easily worn to work.
With a very fine brush, anmi quickly paints the design with professional prowess. Seeing her work is like watching a live art performance.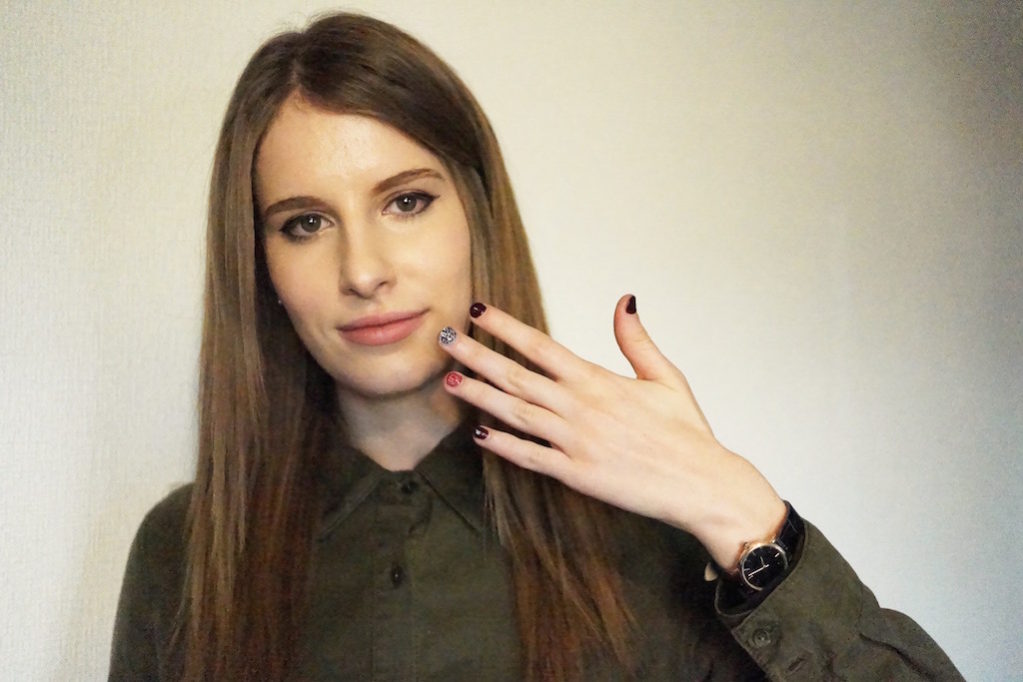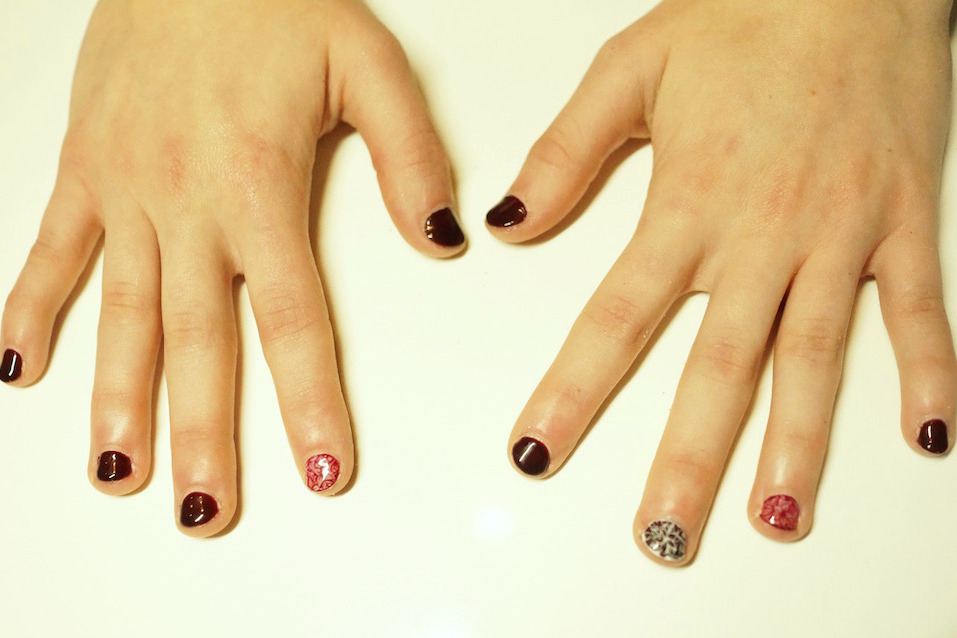 Edgy nail design with petal painting on 3 fingers for a sophisticated look!
Exfoliating Scrub and Massage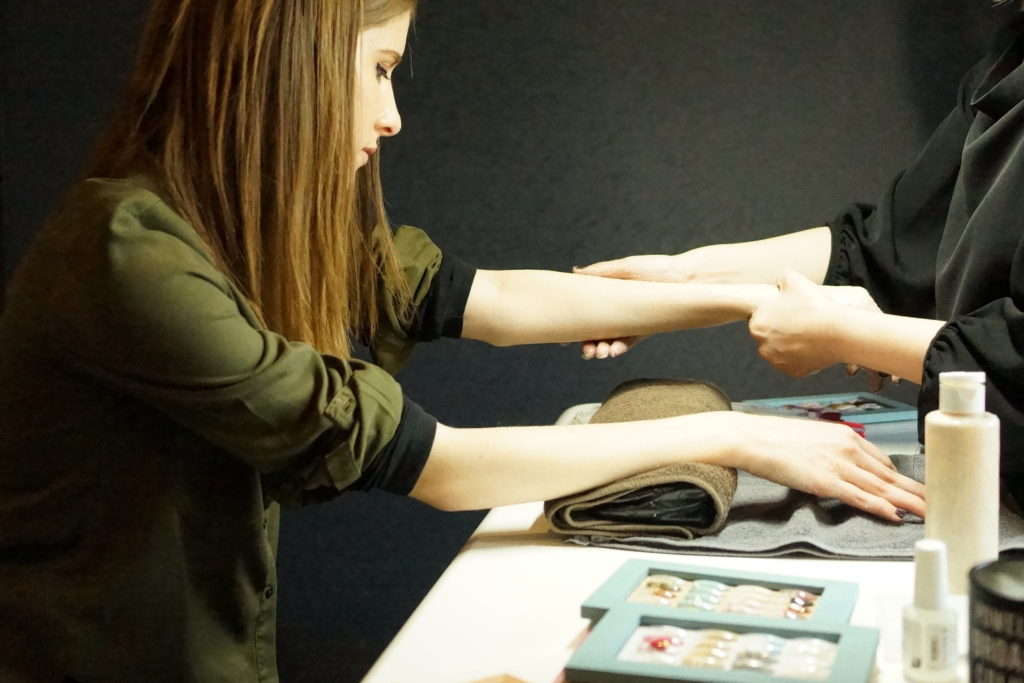 Once your nails are finished anmi uses a soothing exfoliating scrub to massage your arms. This process helps to remove dead skin and promote blood circulation. The scrub has a wonderful scent, and the end result is super smooth skin.
With so many nail designs available in this package from the talented nail artist anmi, the nail designs you dream of can be within the reach of your fingertips!
Payment accepted:
Cash, VISA, MasterCard
Service includes:
• Choice of 1 color plus any gel nail designs of your choice for 3 fingers (hand paint, 3D, glitter, gradient, ombré, French, stones)
• Old gel & polish removal
• Cuticle treatment
• Nail file
• Arm & hand scrub massage
All performed by nail artist, anmi.
*Please refrain from having this service if you have any problems such as fungal nail infections.
Duration:
1.5 hours
Extras:
Free Wi-Fi
Language:
Japanese (Fluent)
English (Intermediate)
Salon:
Hi Nails!
Service hours:
• Monday, Wednesday, Thursday, Friday, Saturday, Sunday 11:00-21:00
Closed every Tuesday
Salon location:
3 minutes walk from Daikanyama station (Tokyu Toyoko Line)
After you reserve this service, we will send you the salon address, telephone number and a detailed photo guidance of how to go to the salon from the nearest station in a reservation confirmation email.
---