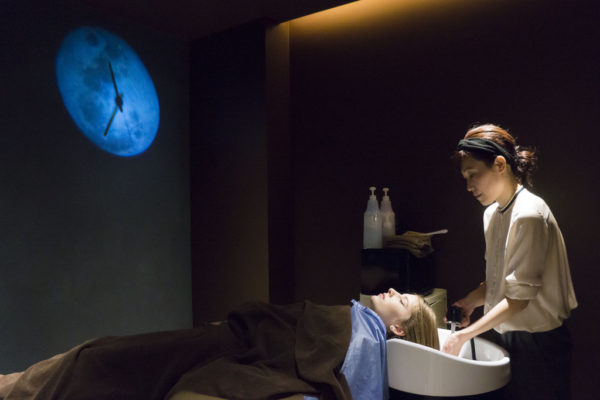 Relaxing Therapeutic Head Spa
Enjoy a hair health and scalp check, a cleansing foam shampoo head massage, a hair cream bath, and a 3-step deep conditioning treatment. All performed by an experienced 'Spa-nist'.
Salon Price 12,960 JPY
TBS Price 9,720 JPY
tax included
Set in the stylish Omotesando area, Roops is a chic beauty salon offering a full selection of premium services for a total beauty treatment: hair, eyelashes, nails, head spas, and massages. One of their signature package services is the therapeutic Roops Relaxation Head Spa. This package combines hair cleansing and treatment with a therapeutic relaxing head massage. What a great way to pamper yourself by revitalizing your hair and scalp while relieving your stress and relaxing your strained eyes!
---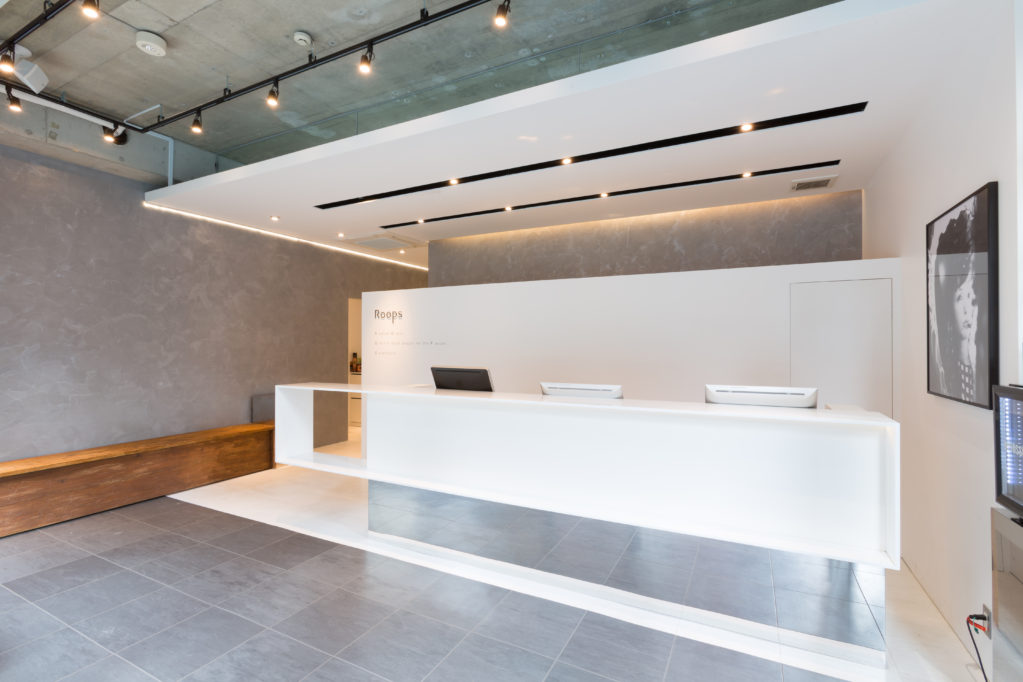 Roops Salon modern interior.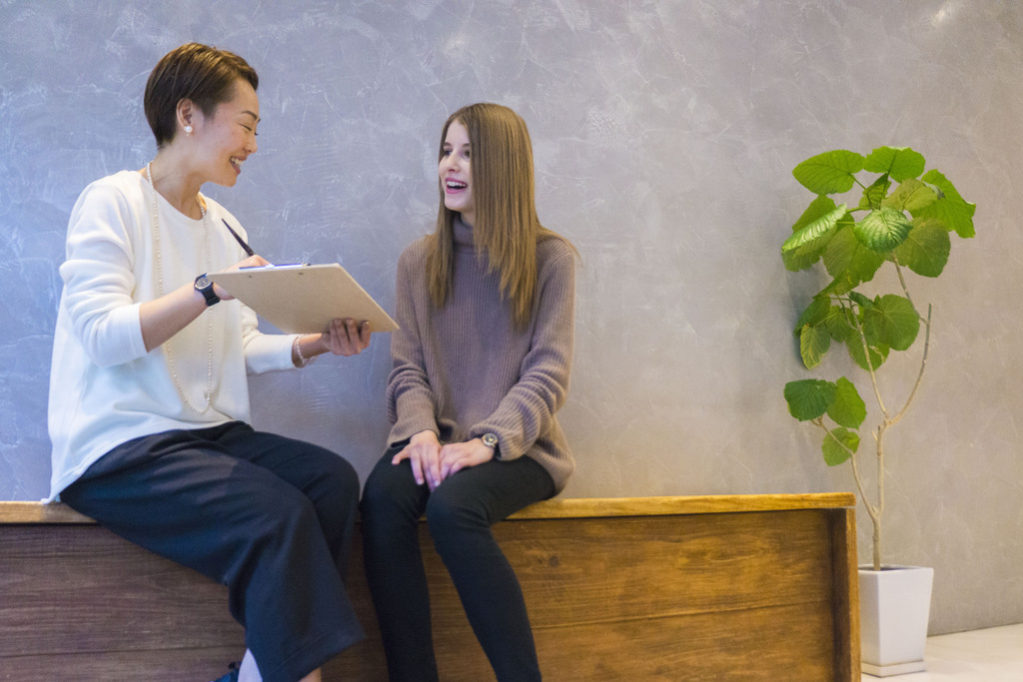 The friendly Japanese -English bilingual receptionist, who helps customers communicate with the salon Spa-nist.
Consultation
At Roops Salon, a friendly receptionist is ready to greet you and lead you see the hair care professional who will take expert care of your hair. In Japan, such head spa specialists are called "Spa-nists". All the Spa-nists at Roops are nationally licensed hairdressers with 10 to 20 years experience in the field, and one of them will meet with you and check the condition of your scalp and hair.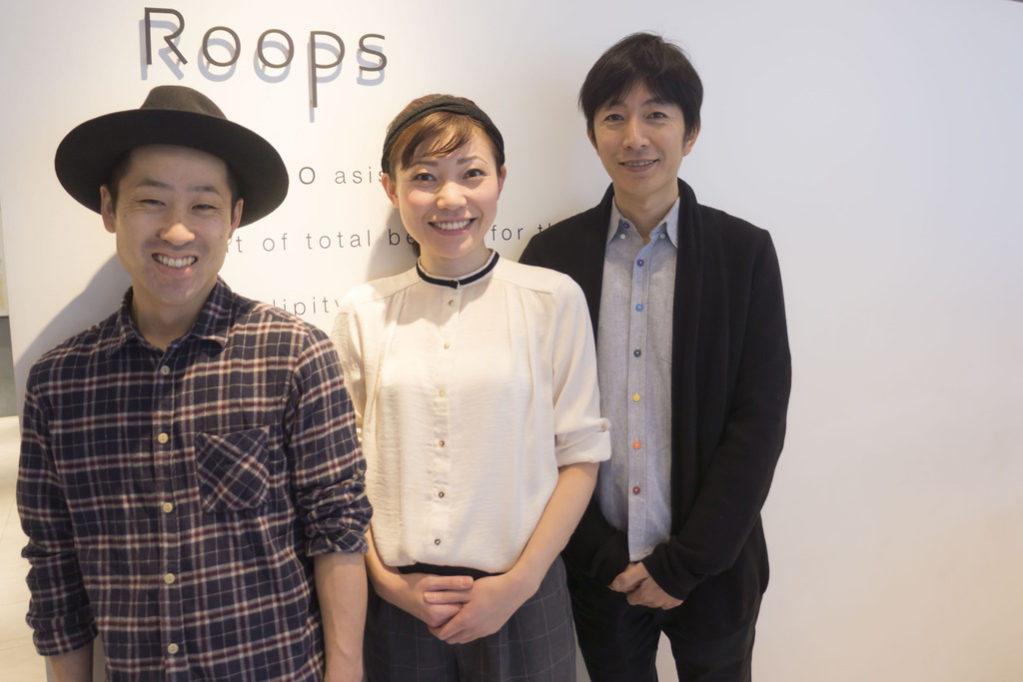 The Spa-nists at Roops.
Because every person's hair and scalp are different and their condition can change with the seasons, the Spa-nist will select products that are best suited to you hair and scalp type:
Products for a dry scalp help prevent dandruff and itching and restore moisture balance to the skin.
Products for an oily scalp help relax skin pores and adjust the oil balance.
For an aging scalp, specially-selected products vitalize the skin and improve its cohesiveness.
Refreshing Bubble Massage + Relaxing Cream Head Massage
The next step in this personalized beauty treatment is the professional massage. After the consultation, the Spa-nist leads you into a beautiful, private massage room. In this room the lights are low and soothing music is played, with sounds of birds chirping and nature in the background. You can feel totally relaxed in this atmosphere.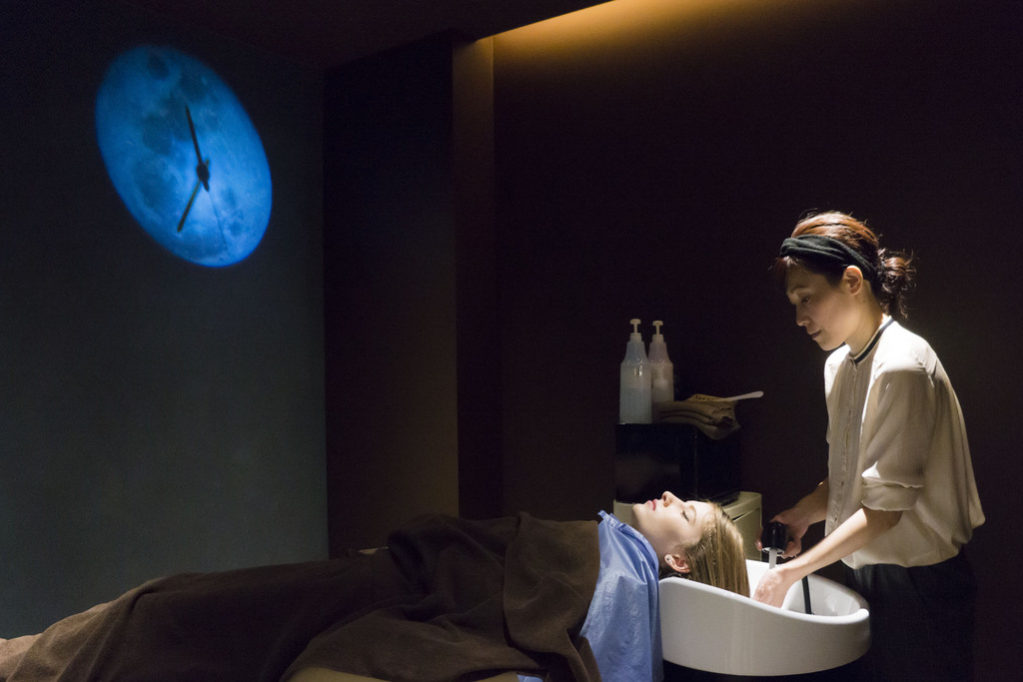 You can almost fall asleep as they massage your scalp with the sound of birds playing in the background.
The Spa-nist first massages your hair with the specially-selected cleansing shampoo. As the shampoo lathers, the foaming bubbles make your scalp tingle as the Spa-nist's fingers work their magic. Then, your hair will receive a cream bath using another specially-selected hair care product. The active ingredient in the cream is glucosamine, which helps moisturize and improve your scalp condition. Meanwhile, the massage helps improve lymphatic flow and blood circulation in the face, along with reducing stiffness and eye strain. This intense experience will make you feel incredibly revitalized. The secret behind the massage is that the Spa-nist matches the movements to the customer's individual pulse and breathing rate, for maximum effectiveness.
3-Step Deep Conditioning Treatment for Intensive Hair Care
After the heavenly 40-minute massage treatment, it's time to come back to Earth with the triple-step deep conditioning treatment:
First, deep conditioning is performed to restore moisture inside your hair back to its original healthy condition. This also creates the optimum environment for hair treatment.
Then, 5 kinds of hair repair ingredients are custom-blended and applied to the hair, effectively repair various kinds of hair damage.
Finally, the Spa-nist will use two kinds of cuticle repair ingredients, which tilt the cuticle's top layer back to the condition of healthy hair. This helps the hair resist water and protects the hair from external damage, resulting in shiny, glossy hair with a smooth texture.
Drying and Styling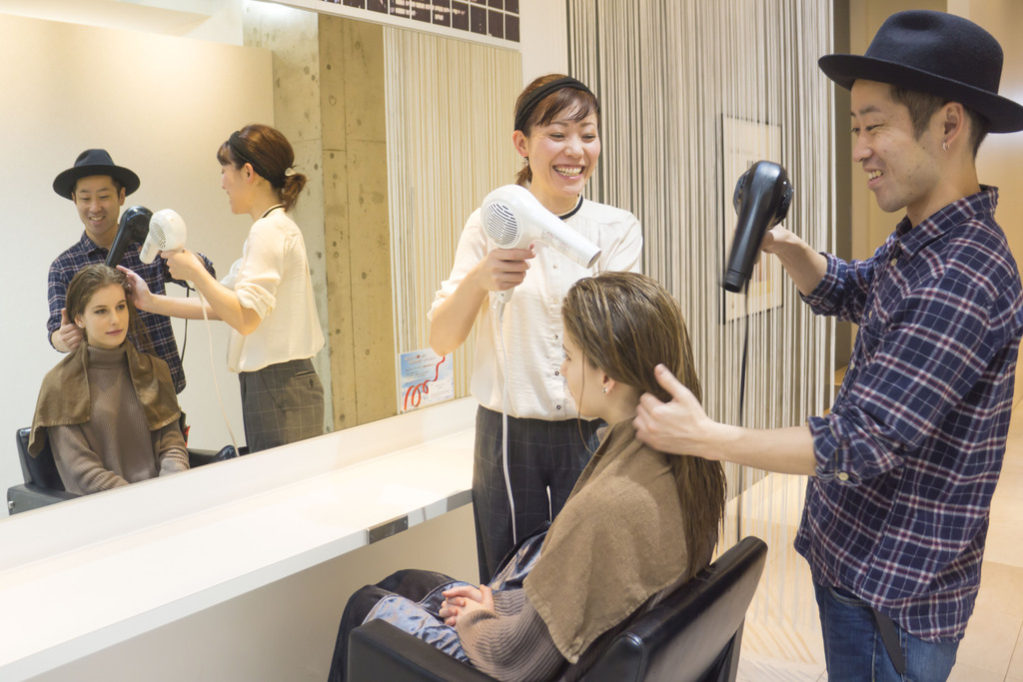 Once the head spa is finished, it's time to have your hair dried and styled! Two stylists work diligently blowing dry and styling your hair, giving it a silky, smooth shine.
We at TOKYO BEAUTY STARS and the professionals at Roops know you will be pleased with your new look!
Payment accepted:
Cash, VISA, MasterCard, American Express
Service includes:
• Hair & scalp check
• Refreshing bubble head massage
• Relaxing cream head massage
• 3-step deep conditioning treatment
• Blow dry and styling
Duration:
1.5 hours
Extras:
Free Wi-Fi
Language:
Japanese (Fluent)
English (Fluent)
A Japanese -English bilingual receptionist will help customers communicate with the stylist.
Salon:
Roops
Service hours:
• 2nd Monday, 4th Monday, Thursdays, Fridays : 14:00-21:00
Salon location:
5 minute walk from Omotesando Station (Ginza line, Chiyoda line, Hanzomon line)
After you reserve this service, we will send you the salon address, telephone number and a detailed photo guidance of how to go to the salon from the nearest station in a reservation confirmation email.
---