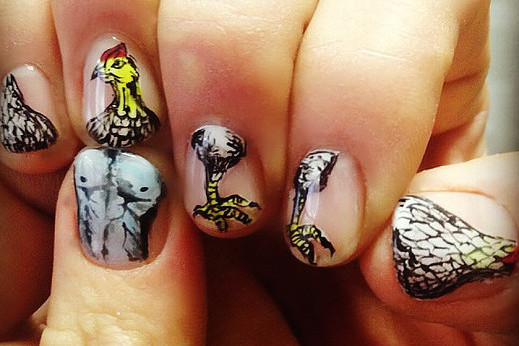 Amazing Fine Art Gel Nails
Enjoy a nail file cuticle treatment, 10 fingers with any gel nail artwork of your choice, plus a refreshing arm and hand scrub massage all performed by nail artist anmi.
Salon Price 13,500 JPY
TBS Price 12,000 JPY
tax included
We were extremely excited by anmi's talented work. The detail was impeccable and the quality high. It was nail art like we had never seen before. Our curiosity about her craft got the best of us and we headed to Daikanyama to view this art performance for ourselves. She made us feel welcome in her snug studio and immediately engaged us in conversation to get to know our style and ideas.
---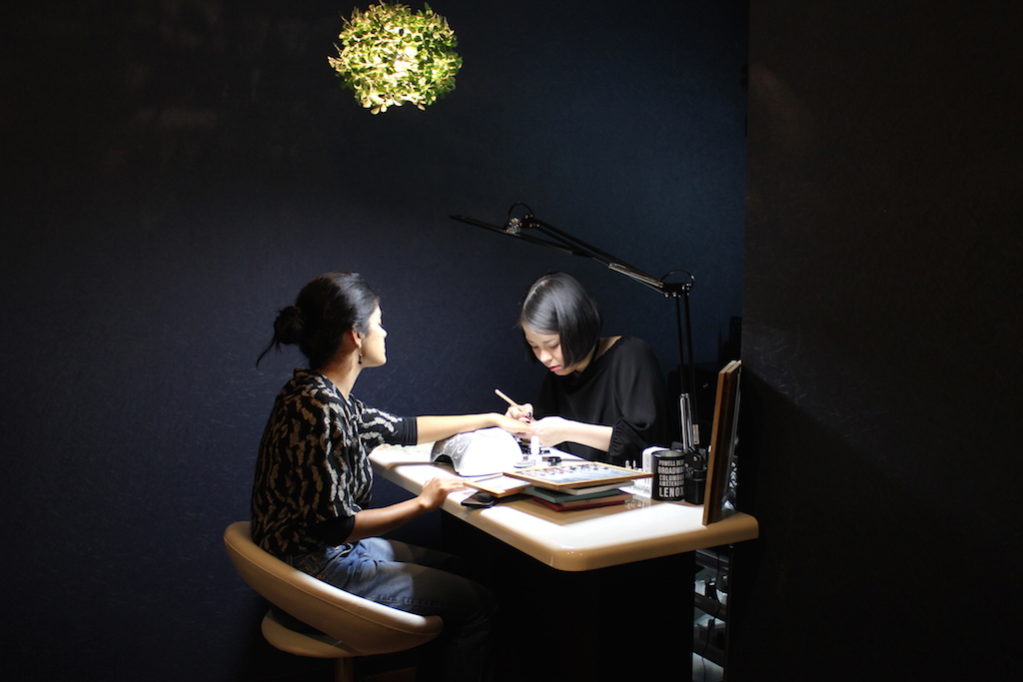 anmi at work in her cozy studio
Have anmi at Hi Nails! transform your nails into gel masterpieces before your eyes. After years of experience in Soho, New York, her studio in Daikanyama, Tokyo should be a destination for anyone with an eye for style and appreciation for creativity.
Not Your Regular Manicurist
Art truly is at your fingertips! In her time in NYC, she was constantly surrounded by art and creativity. Inspired by her environment she taught herself everything she knows about nail art. She has collaborated with artists all over the US and partaken in several live art performances.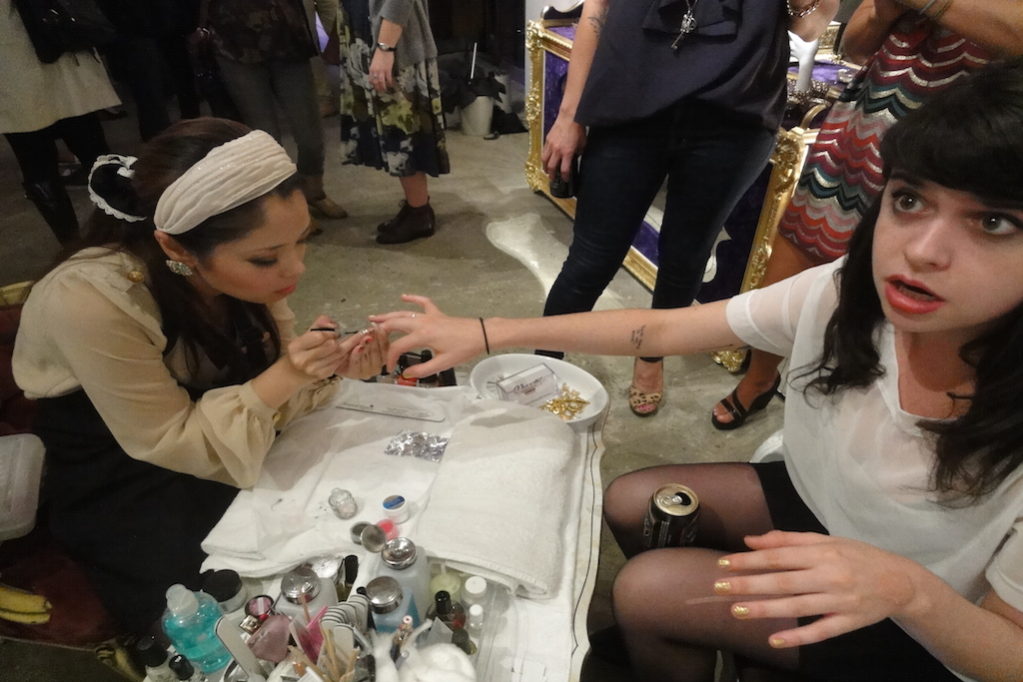 anmi moved to NY in her formative years in search of art and inspiration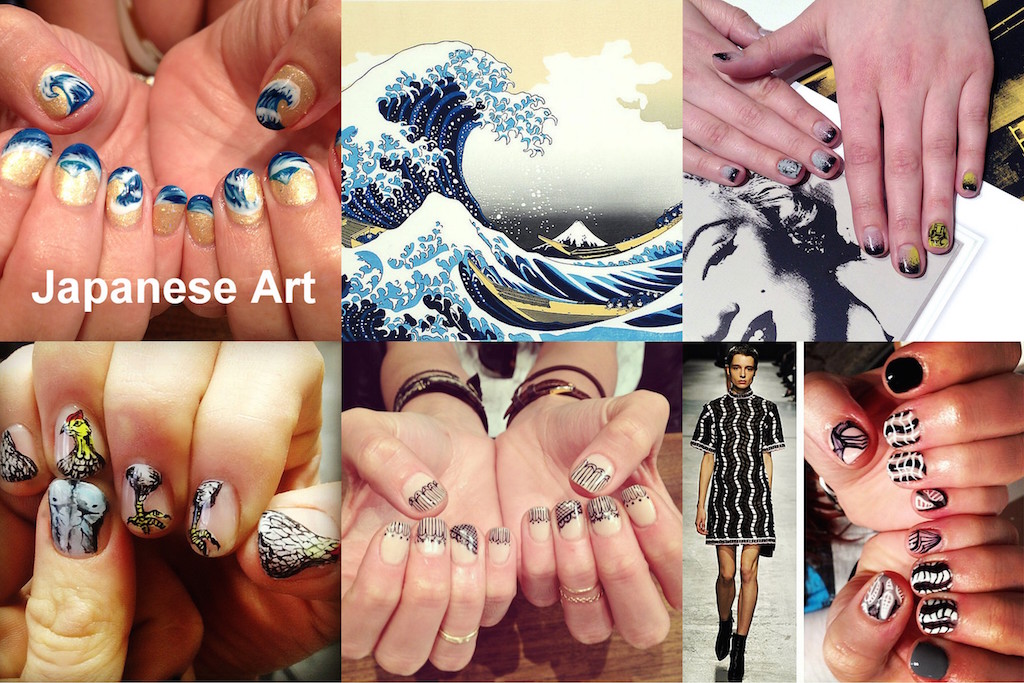 A keen art enthusiast, anmi formed her own style inspired by art exhibitions, museums and books

She integrates the concepts of surefire techniques, speedy application, creative designs, proper sanitation and reasonable prices. With cutting edge technology and perfected techniques she can save time on cutting and filing and devote it to her painting. Sometimes she is so fast, she has to wait for the 5-second LED nail dryer! Take your favourite artwork or patterns to her for inspiration and she will work her magic in no time.
Solid Technique and Speedy Application
anmi starts off with a swift cut, file and smoothing of your nails to get them prepped for painting. A separate set of tools is prepared for each customer a day ahead. These tools are sterilized and kept in anti-bacterial packs to ensure extremely high health and hygiene standards.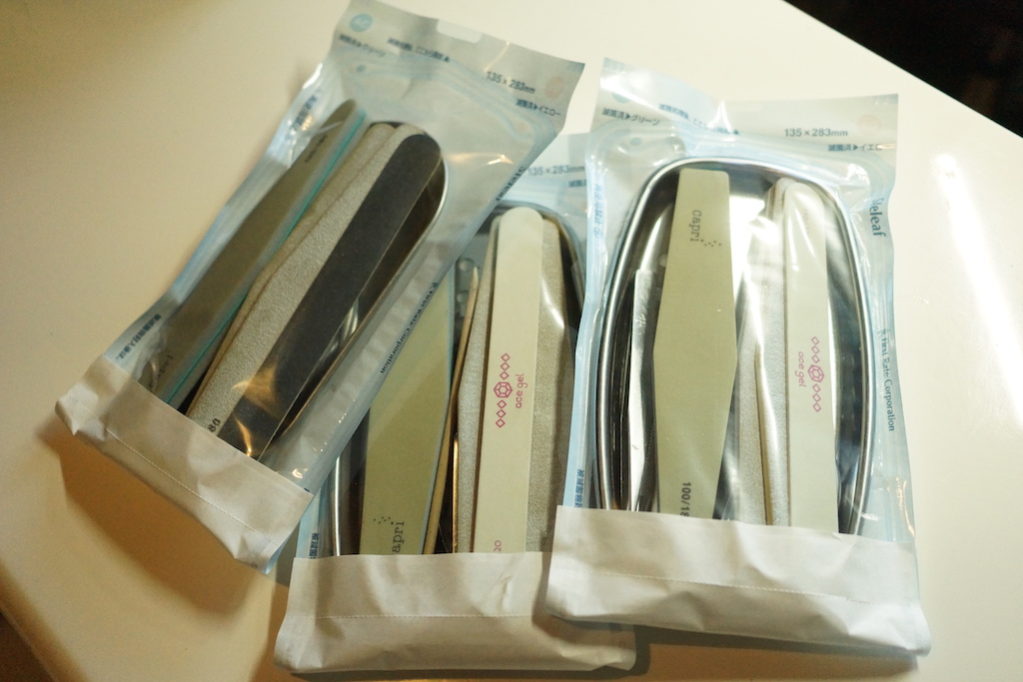 Tools prepared a day ahead and stored in antibacterial packs to enforce a high standard of hygiene
Next she applies a gel base-coat that helps form a consistent canvas to work on which is dry in 5 seconds. High quality products that make minimal impact on your nails are applied. Then the fun begins. anmi has a number assigned to each of her wide array of nail colours and has an uncanny ability of perfectly matching the shades to the artwork you provide.
Fine Nail Art that Tells a Story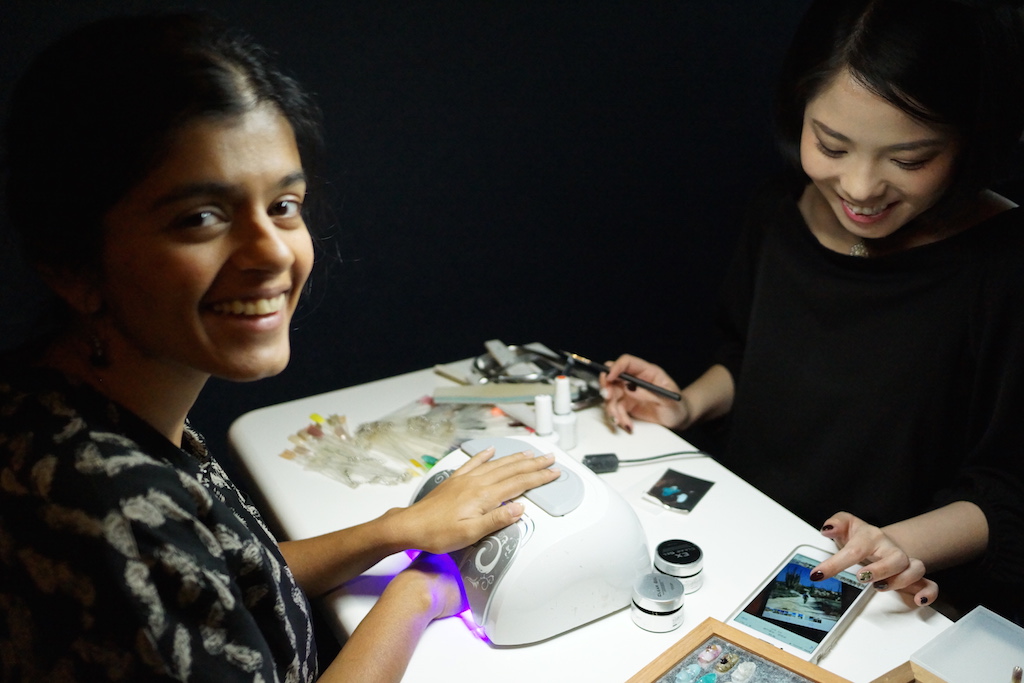 With each coat more and more of a painting starts to appear on your nails. For this session, Lavanya brought some photos of Baja CA, Mexico where she will be travelling on her bicycle. anmi was delighted and inspired by the mix of desert landscape and bicycle camping. In fact, she ended up adding a few of her own ideas of Mexican design. Very entertaining to watch, she keeps her customers enthralled. In a short amount of time, there are ten complex, high-resolution pictures on your fingertips.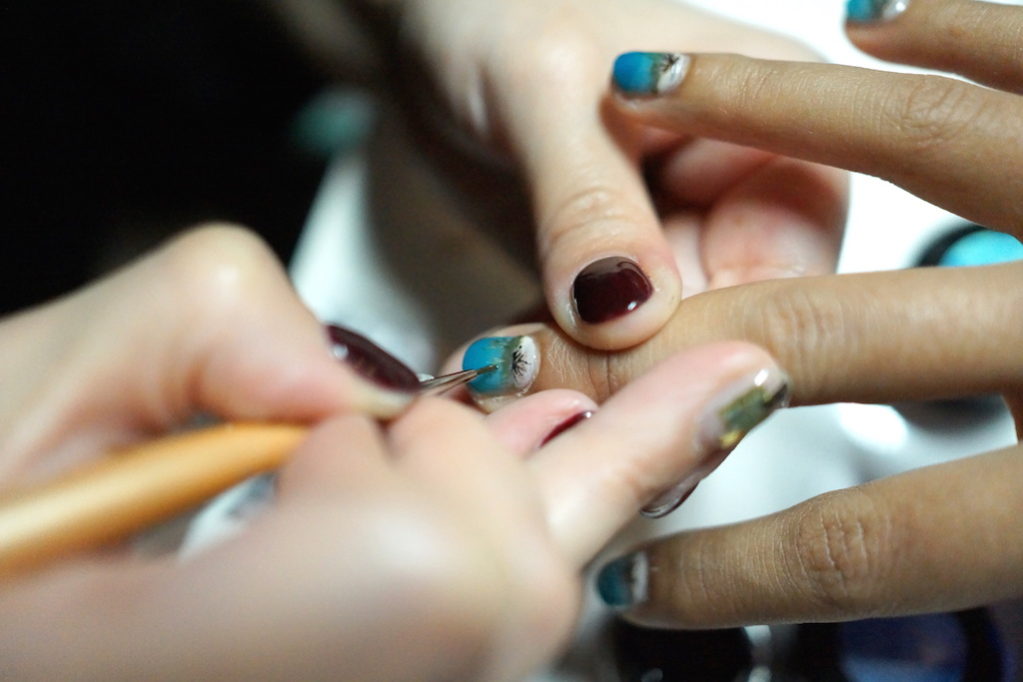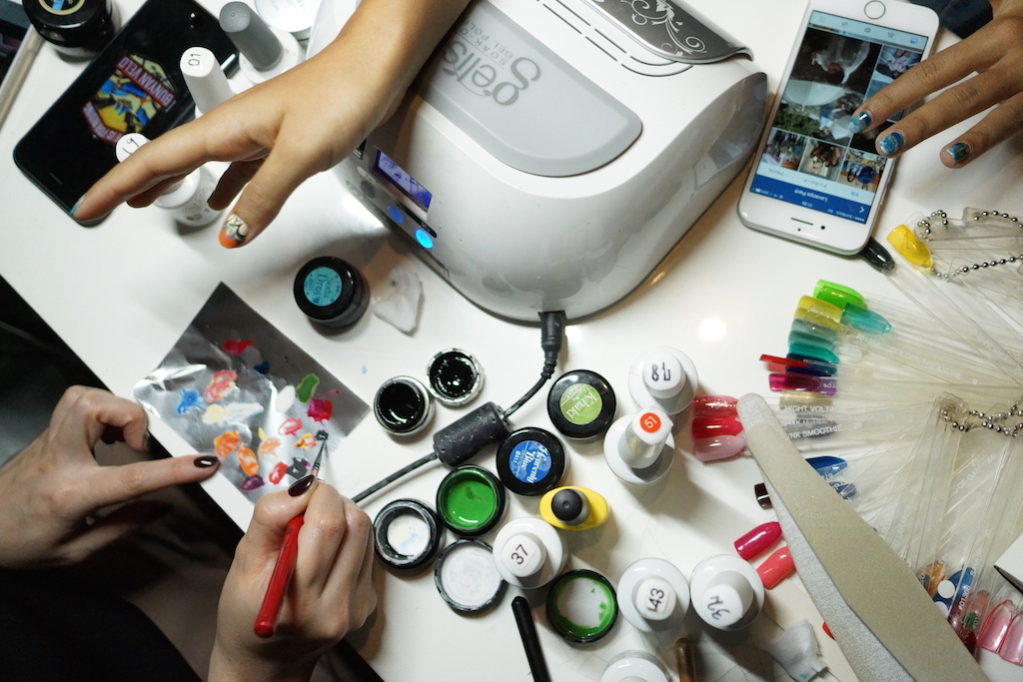 Then she applies two additional coats – one to strengthen the artwork and another to provide protection against the elements. If you frequent hot springs, swimming pools or the beach, not to worry! These products will ensure the art will stay put for a long time. The session finishes with a relaxing forearm scrub massage leaving your hands looking and feeling great.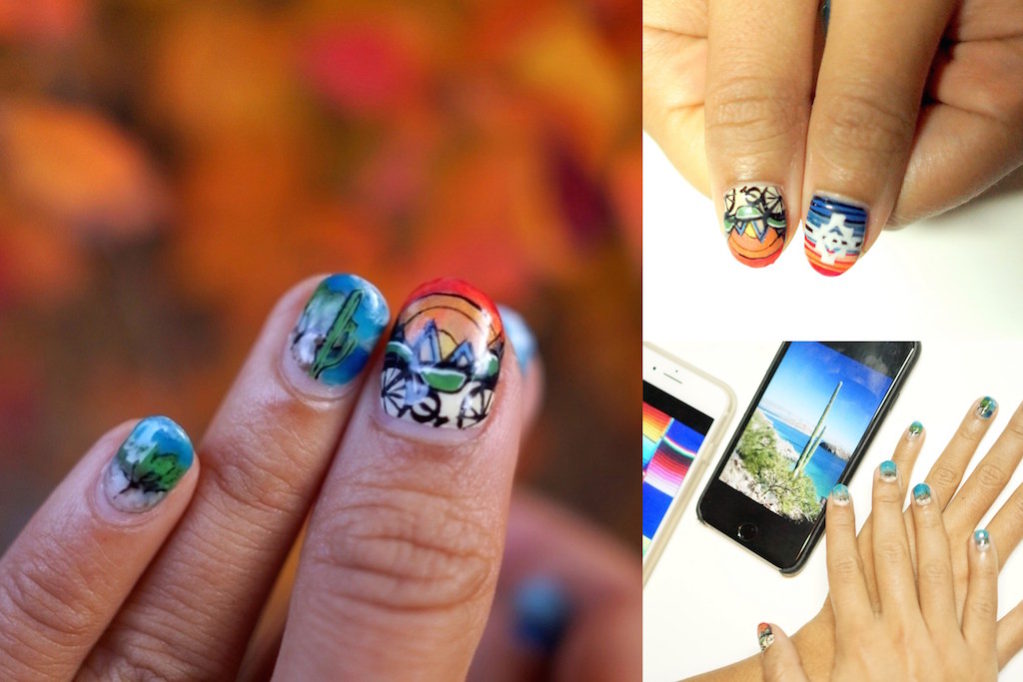 This work was inspired by Lavanya's upcoming cycling trip through the desert Baja California, Mexico. The nail arts are still this beautiful after 2 week growing out!
Payment accepted:
Cash, VISA, MasterCard
Service includes:
• 10 fingers with any gel nail artwork of your choice (Hand paint, 3D, Glitter, Gradient, Ombré, French, Stones)
• Gel & polish removal
• Nail file
• Cuticle treatment
• Arm & hand scrub massage (Hot towel)
All performed by nail artist, anmi.
*Please refrain from having this service if you have any problems such as fungal nail infections.
Duration:
2 hours
Extras:
Free Wi-Fi
Language:
Japanese (Fluent)
English (Intermediate)
Salon:
Hi Nails!
Service hours:
• Monday, Wednesday, Thursday, Friday, Saturday, Sunday 11:00-21:00
Closed every Tuesday
Salon location:
3 minutes walk from Daikanyama station (Tokyu Toyoko Line)
After you reserve this service, we will send you the salon address, telephone number and a detailed photo guidance of how to go to the salon from the nearest station in a reservation confirmation email.
---